Minimum turnout call for Jersey's referendum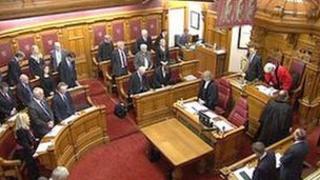 A Jersey politician who wants a minimum turnout of 40% for the referendum next month said it would encourage more people to vote.
Deputy Jeremy Macon said politicians should only use the results of the referendum on electoral reform if it reaches that threshold.
He said the percentage figure was used in other countries and should encourage more people to take part.
Residents will be asked to choose from three referendum options in April.
Deputy Macon said: "Let's get our friends and get our neighbours out to make a decision. Let's join and cast a vote.
"There's still going to be a big issue about what the results will be, but at least we can say this is something the community feels strongly about."
Every home in Jersey will receive two booklets explaining April's referendum on States reform according to the group responsible.
The referendum choices include two options for change and one to maintain the status quo.
Option A will see 42 deputies elected from six large voting districts.
Option B will have 30 deputies elected from six districts and 12 parish constables.
Option C will maintain the status quo of eight senators elected island wide, 29 deputies in a range of constituency sizes and 12 parish constables.
The closing date to register to vote is 3 April, and the referendum will be held on Wednesday 24 April.