Parents warned over 'dangerous' school runs after snow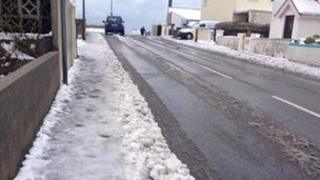 Parents should not take risks trying to get their children to school following the snow, says Jersey's Director of Education.
Mario Lundy said schools would understand if families in remote areas felt it was too dangerous to travel.
Schools across the island have been closed for three days due to heavy snow and high winds making travel treacherous.
The airport, which had also been closed for three days, reopened at 08:45 GMT.
The school bus service and public bus service are running, but some routes have changed to avoid roads blocked by snow and ice.
A Transport and Technical Services Department spokesman said the melting snow was creating icy surfaces, and cyclists and bikers needed to take extra care.
He said the majority of the road network was open, but on some roads only one lane was open and it was likely to take a couple of days to clear all of the roads.