Power restored to majority of homes after snowfall cut supplies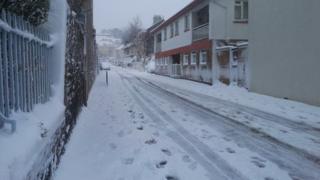 Work to restore electricity to 200 homes cut off by gales and blizzards has nearly been completed, Jersey Electricity has said.
More than 20 power lines were damaged on Monday when severe gales and heavy snow battered the island.
A spokesman for Jersey Electricity said just three homes were still without a power supply.
Flights at Jersey Airport resumed at 14:00 GMT after being suspended since Monday morning.
But the first plane due to land, a British Airways flight from Gatwick, was diverted to a French airport at the last minute.
An airport spokesman said: "As a safety precaution, the pilot has diverted the aircraft to Dinard Airport due to current cross winds.
"Other aircraft departures are operating as per schedule and a number of smaller aircraft are landing."
He said there were crews out clearing the runway and associated areas since 04:30 GMT this morning.
The spokesman added: "Passengers have been very understanding and obviously they appreciate these are very severe weather conditions."
An education department spokesman said schools in Jersey were likely to open on Thursday after being closed for three days this week.
Jersey Police said the majority of main roads have now reopened.
Many bus services are running but Liberty Bus said some routes were still restricted.
A spokesman for the police said: "Nearly all of the island's footpaths are untreated and in a treacherous state.
"With the likelihood of pedestrians walking in the carriageway motorists are asked to drive with consideration for pedestrians."