Jersey harbour plan for second wall in St Aubin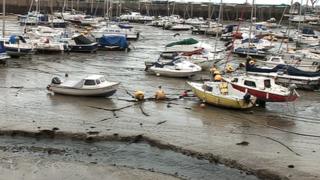 An extra wall could be built outside St Aubin Harbour to stop it silting up so quickly, harbour officials have said.
There is already a wall, known as a revetment, on the right side of the harbour exit but officials say a left wall is needed.
Harbour commercial director Myra Shacklady said work to dredge 20,000 tons of silt had just been completed at a cost of £700,000.
Ms Shacklady said the project was under budget, leaving money for other work.
She said, in addition to the revetment, they would be "looking at enhancing the lighting, enhancing the bollards and a complete set of new signage" for the area.
Ms Shacklady said this would be available before the end of Spring 2013.
Ian Barclay, a project manager on the silt scheme, said it would be good to add the extra barrier to stop the silt building up again so quickly.
He said: "If you were going out of the harbour entrance on the right hand side there is a small stone groin and they will be looking to put a larger one on the left hand side."
The project involved removing the silt and sand with excavators then dumping it out to sea as well as replacing all the chains that were holding buoys in place.
Mr Barclay said: "It is being taken four and a half miles south of Jersey to an authorised tip site, it is tipped at the top of the tide so when the currents turn around it is taken away."