'No evidence' of eastern European sex ring in Jersey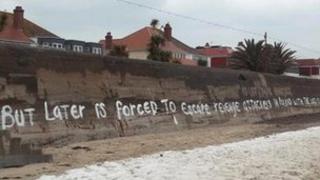 Jersey Police have found no evidence of a sex ring operating in the island following allegations daubed in graffiti on a sea wall in January.
The lettering, which detailed allegations against three people, was painted along hundreds of metres of sea wall in St Peter and St Aubin.
Officers said they had spoken to a number of people but found no evidence the allegations were true.
A spokesman added that no-one had been charged in relation to the incident.
In a statement, a police spokesman said: "Some of those people identified as being involved in this supposed "sex ring" no longer reside in Jersey and haven't done for a number of years.
"Due to there being no indication that these allegations are true the incident is being investigated as an act of malicious damage."