Major Jersey social housing reform plans from minister
5 March 2013

From the section

Jersey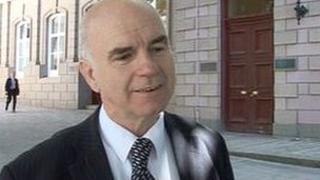 Major proposals to transform the way social housing is delivered in Jersey have been announced by the island's housing minister.
The plans include changing the housing department to a company run by the States to give it access to more money.
The housing minister Deputy Andrew Green said the plans represented the biggest change to social housing in Jersey's history.
But a former housing minister has criticised the plans.
Deputy Sean Power said he was worried priority would shift from people to profit.
He said: "What I am worried about is restructuring the organisation in such a way that there is an aspiration or an expectation that it will make a return on investment."
A quarter of social housing needs improvement to meet the Decent Homes Standard, a benchmark for public housing introduced by the UK Government.
Deputy Green said making his department into a company would mean more money to ensure islanders were living in decent accommodation.
He said the company would be advised by a board of directors which will include two tenants who will have a say on how it is run.
'£200m investment'
The minister said the housing department had insufficient funding for the improvements and new homes.
He said by incorporating the department as a company limited by guarantee wholly owned by the States it would have access to long-term investment of over £200m.
Deputy Green said: "This is probably one of the biggest things the States will ever see, but it is not fiddling at the edges.
"This is acknowledging what needs to be done and coming up with a way to do it rather than short-term fixes."
Colin Russell from the States Tenants Forum Panel said he was excited about the plans.
He said he believed the minister when he said it would mean more protection for tenants.
He added: "We do need new properties being built to lessen those numbers on the waiting list to get into social housing."