Jersey Petanque Association membership doubles as game grows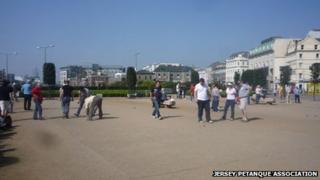 In the heart of Jersey's capital, St Helier, among the clean, straight, shiny banks and hotels that mark the architecture of the finance centre, there is a patch of dusty squared off land.
If you pass it at lunchtime you might spot young professionals, perhaps dressed in suits, standing in the dust, throwing metal balls in the air aimed at a smaller ball called a cochonnet.
Deep in concentration, they are playing the game petanque.
This scene may seem slightly out of place because the game is often associated with Frenchmen, of an older generation, playing in village squares over a glass of red wine.
Lunchtime league
Petanque originated in the south of France in the early 1900s but now, more than a century later, it has become prevalent in Jersey's open spaces and the governing body of Petanque in the island says it has become one of the fastest growing sports there.
The Jersey Petanque Association (JPA) was formed in 2003 to govern clubs in the island and bring the sport to the next level and anyone playing in formal competitions and leagues has to become a member.
Elaine Paisnel, the JPA's secretary, said in the past five years its membership has doubled with now more than 500 islanders officially playing the sport.
She said the rise may be partly due to the association starting a lunchtime league in 2008.
It is encouraging people working in St Helier to take a break from the office and play the game.
In its first season there were eight teams in the league but it now has four divisions of eight teams, with almost 200 players currently registered, and Mrs Paisnel said it was attracting a younger generation to the sport.
She said: "It is a bit of fresh air, it is fun, but it has grown. Once you have played a few times there you become hooked.
"It is a fun sport, it is easy to play, you don't have to spend a fortune on equipment or clothing, anything like that, you can just go and have a game any time at all standards."
The JPA is now a member of the European Federation (Confédération Européenne de Pétanque) and the World Federation of Petanque (Fédération Internationale de Pétanque et Jeu Provençal).
It also has qualified coaches and umpires to support the sport at all levels and in 2011 one of Jersey's clubs, Carrefour, represented Jersey in Europe for the first time.
Teams play in the inter-club league to compete for the right to represent Jersey in the Eurocup.
There are more community clubs cropping up too.
Jersey is made up of twelve parishes, similar to counties in the UK, and during spring last year the JPA introduced parish competitions.
Six parishes took part in the first inter parish league last summer and by winter eight parishes were playing in the winter leagues.
Mrs Paisnel said she hoped all parishes would have a team competing within the next year.
Some parish groups are small with up to 10 players but others, such as St Clement, have 20 to 30 players.
John Risedale joined his parish team in December.
He said: "A friend of mine asked me to join, and I've enjoyed it ever since. It's a really nice game, very sociable, and it keeps you fit."
Mrs Paisnel said the growth in numbers was encouraging, and she was hoping the JPA could now work more closely with Jersey schools to bring an even younger generation of players for the future.