Jersey bus text message service returns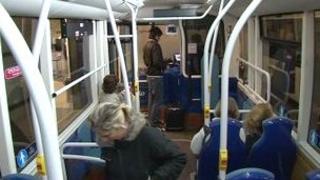 A text message system that delivers up to date information about Jersey's bus system has been restarted.
The service had been suspended since the new operator Liberty Bus took over the service on 2 January.
The company said the delay had been due to the need to install equipment on the new buses and carry out testing across the island.
Passengers can text the number of their bus stop to 66556 to see if their service is running on time or late.
Kevin Hart, general manager, said: "We'd like to thank our customers for their patience whilst we worked hard to get these tools right.
"We aim to use technology to make travelling by bus in Jersey better and easier."
He said future developments included on-bus next stop announcements and personalised electronic timetables.