Jersey car park gets island first electric vehicle charging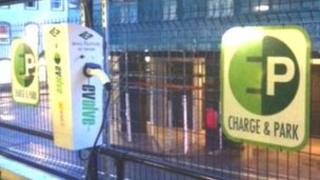 Jersey's first public electric vehicle charging bay has gone live in a St Helier's car park.
The two charging points at Sand Street car park allow motorists to charge their vehicle while they are shopping.
It is part of a pledge by Jersey's government to "significantly" reduce carbon emissions.
Transport Minister, Deputy Kevin Lewis, said the States wanted to reduce carbon emissions by 80% of 1990 levels by 2050.
Deputy Lewis said this would be the first of a network of electric vehicle charging points in the island. He said there would be two bays in each of five St Helier multi-storey car parks.
A further eight charging points will be rolled out in car parks at Patriotic Street, Green Street, Minden Place, Pier Road and Jersey Electricity will install four more at its own Powerhouse car park during the next few months.
Jersey Electricity, the island's only electricity provider, has installed the points.
Chief executive officer Chris Ambler said: "We have long been committed to helping Jersey reduce its carbon emissions and view the electrification of transport as the next big step.
"As more and more EVs come on to the market it is important that public confidence in electric transport is enhanced by an accessible and reliable public charging infrastructure."
Deputy Lewis said the charging network was vital to the island as a tourist destination. He said the island wanted to tap into a growing market of environmentally conscious consumers.
Parking in the electric bay is half the cost of a normal space if you have an electric car. It normally costs 73p per hour.