Jersey police dogs could be trained at shopping centre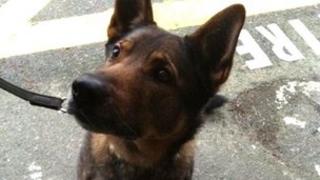 A St Helier shopping centre could double as a police dog training centre after an appeal by the Jersey force.
A spokesperson from Liberty Wharf offered a unit space to help Jersey Police train the dogs.
Officers in the island took to Facebook to appeal for help after work began to redevelop their old centre.
Dog handler Dave Bisson said lots of places would be suitable including unused hotels, old farm buildings or office blocks.
Mr Bisson said the police had been overwhelmed by the response since taking to Facebook on Monday.
He said: "The size of the building doesn't really matter, what we are looking for is a variety.
"If a building owner has a house or flats that are lying empty because they are waiting on planning permission, or a business owner that has got an office block lying empty - those sort of properties are ideal for us to use."
Liberty Wharf is one of a number of places the force are looking at.
Simon Tinley, the centre's general manager, said they had a variety of places the force could use to train the dogs.
He said: "Liberty Wharf is a community venue, lots of exciting things are going on down here and if we have units that can be used by the community then we will see what we can do."