St Helier shops: January sees massive closures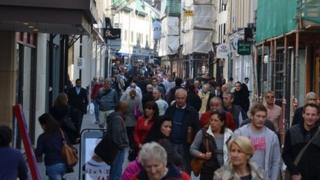 Jersey's town centre has seen as many shops close down since December as closed through all of 2012 according to the centre manager.
Richard Mackenzie said two shops had closed per week since the start of January.
On Wednesday the Collections Group closed with the loss of up to six stores and outlets in St Helier.
Nearly 50 people lost their jobs at a time when unemployment in the island is at an all time high.
At the end of December 1,840 were registered as unemployed, the highest recorded level, according to the States Statistics Unit.
Mr Mackenzie said there had been about ten store closures in the past five weeks which was almost the same as the total number of closures in 2012.