Demolition of Jersey's Bellozanne waste plant begins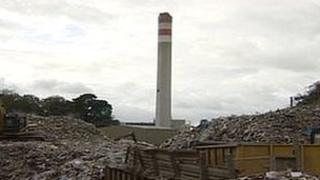 Work has started on the demolition of a former energy from waste incinerator at Bellozanne in Jersey.
The £1.5m process is expected to take until the end of 2013 and is expected to involve 99% of the material on site being recycled.
The Transport and Technical Services Department said disruption would be kept to a minimum.
It apologised in advance for the noise of the demolition and a slight increase in traffic in the area.
Deputy Kevin Lewis, the department's minister, said: "The Bellozanne energy from waste plant has not operated since the end of 2010.
"We had kept it on standby initially in case we had problems with the new La Collette plant when it was being tested, but it was never needed.
"This year we have been decommissioning the structure, stripping out all the interior equipment and now it is time for it to be demolished before it deteriorates and becomes expensive to keep safe and secure."