Durrell gorilla pregnant for the first time in 10 years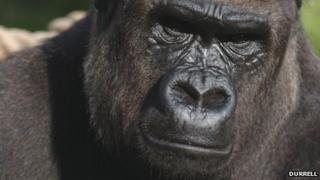 One of Durrell's gorillas is pregnant in the first event of its kind in a decade.
The 24-year-old gorilla, called Hlala Kahilli, is due to give birth at Durrell in mid-November.
The pregnancy comes a year after the new silverback gorilla at the Jersey wildlife park, Badongo, arrived last summer to replace Ya Kwanza who had not bred in eight years.
Durrell said Badongo had so far mated with all three females in the group.
He said it was hoped that the other gorillas, Kishka and Bahasha, would also fall pregnant.
Hlala Kahilli was Ya Kwanza's only choice of mate, despite him having access to seven females at the time.
'Wonderful news'
Her last offspring, Ya Pili, was born in 2003, the last gorilla born at Durrell. She died in 2007.
Mark Brayshaw, of the Durrell Wildlife Conservation Trust, said: "This is wonderful news for the gorilla breeding programme in Jersey and exactly what we hoped would happen following the arrival of Badongo.
"Maintaining a healthy captive population is vital due to the ongoing decline of wild populations and because youngsters effectively provide the social glue that holds a group together. A birth should really give our group at Durrell a new 'spark'.
"However, female gorillas can suffer the same obstetric problems as women, so until we have a healthy new-born that is feeding well, we can't relax."