Jersey bees are hit by wet summer and virus carrying mites
3 August 2012

From the section

Jersey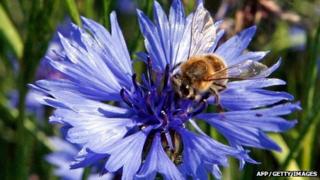 Jersey's bees are being killed off by a virus caused by a mite which has thrived in the wet summer weather.
Bee keepers say it has been one of their worst years with honey stocks low and and bees struggling to survive.
Three years ago a quarter of the hives in Jersey had to be destroyed because of a virus called American Foulbrood.
This year the Bee Keepers' Association planned to recover their losses but have not been successful.
The association planned to breed more Queens to develop more colonies.
Bob Hogg from the association said the bee colonies were not healthy at the moment.
He said: "What's happening is, especially this year, we are having a problem with a mite that infects the bees with viruses which are terrible for the bees.
"It can destroy a whole colony and in wet weather when bees can't get out the mites increase, the viruses increase and they are suffering very badly this year."