Olympic torch relay: Jersey welcomes flame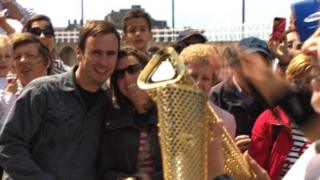 Thousands of people have welcomed the Olympic flame to Jersey on day 58 of the torch relay .
The relay from Southampton to Portsmouth arrived at Jersey Airport at 11:40 BST.
Jersey is the most southerly point of the relay during its 8,000 mile, 70-day journey to the opening ceremony of the Olympic Games in London on 27 July.
Huge crowds cheered the flame along the seafront between Bel Royal and St Helier and back to Lower Park.
'Brilliant atmosphere'
The Olympic flame was welcomed at the airport by the Bailiff, Sir Michael Birt and the Lieutenant Governor of Jersey, Sir John McColl.
Up to 400 people saw the start of the relay from Bel Royal before it was carried along the seafront to St Helier with crowds two or three deep, waving flags and cheering the torchbearers.
"It's a wonderful atmosphere, Victoria Avenue is heaving with people", said BBC Jersey reporter Sara Palmer as the flame set off.
Islander Sam Caffrey said: "It's something we will never see again in our lifetime.
"The atmosphere is brilliant. Everyone is enjoying it and taking part."
BBC Jersey sports reporter Richard Collinson, 69, was the first torchbearer in Jersey. He was nominated for dedicating his life to sport and providing football coaching for young people.
Torchbearers also included Sally Minty-Gravett, 54, who has swum the English Channel four times in four consecutive decades.
She lit a cauldron at the Weighbridge in Jersey, where hundreds of people greeted the torch.
Struggling to hold back tears, she said: "I can't tell you how emotional it was and how proud I am."
Bailiff Sir Michael Birt said in a speech: "Jersey has a long sporting tradition and so it's most fitting today that there has been a wonderful cross-section of the community carrying the torch.
"It's particularly fitting for Sally Minty-Gravett as one of our sporting heroes."
The torch was taken over by Anthony Lewis, 43, who was left partially paralysed after a football accident in 2007.
Sir Michael said Mr Lewis's "achievements in the face of adversity have been an inspiration to us all".
The island's youngest torchbearer, Charlotte Samson, 18, from St Lawrence, carried the flame back along Victoria Avenue out of St Helier.
She is currently part of the UK Lifesaving Team selected by England to compete at the Commonwealth Lifesaving Championships.
The relay finished at 13:35 BST at Lower Park and the flame continued its journey back to the airport and onward to Portsmouth.