Olympic torch: Full Jersey relay details still unknown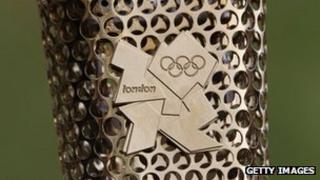 More details have been released ahead of the Olympic torch relay in Jersey, but organisers in the island are unable to confirm the full list of runners.
BBC reporter Richard Collinson is expected to run the first leg.
However, co-ordinator Jersey Tourism said it did not know who all the torchbearers were two days before the event, and where each would run.
Olympic organisers Locog said its representatives were working on last-minute details on the island.
It is still not known if there will be a celebrity runner.
However, long-distance swimmer Sally Minty-Gravett and honorary policeman Mitch Couriard have been revealed as additions to the list.
Islanders 'inspired'
"This particular event has had its own difficulties mostly through a lack of detailed information," Jersey Tourism director David de Carteret told BBC News.
"We haven't necessarily had the information down from London that we would have required."
Locog announced an initial list of 16 torchbearers for Jersey but since then there have been withdrawals and additions and Jersey Tourism has not been given a final list.
Jersey's Bailiff and Lieutenant Governor will lead the delegation welcoming the flame at Jersey Airport at 11:35 BST on Sunday.
The torch will be carried along Victoria Avenue on the island's south coast, as the flame reaches its most southerly point on the tour of the British Isles.
Entertainment and celebrations are planned in Weighbridge Place, St Helier and Mr de Carteret is expecting thousands of islanders to be there.
"I'm absolutely sure that people will turn out," he said. "Throughout the island at all sorts of different levels people are inspired by this.
"I'm certain they will participate in what will be a one-off day."