Philip Ozouf reprimand over police station deal withdrawn
9 July 2012

From the section

Jersey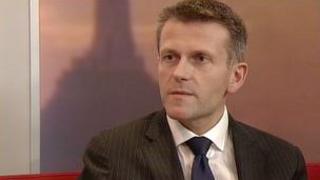 A motion to reprimand Jersey's treasury minister for his handling of a failed deal to buy a new police station has been withdrawn.
Senator Philip Ozouf said he was disappointed the censure call would not go forward as he wanted a debate on it.
Four Jersey politicians wanted the minister to be called to account.
A report into the deal by Comptroller and Auditor General Chris Swinson made accusations of harassment and bullying by Senator Ozouf.
Last week Mr Swinson resigned from his post.
His report was used to criticise the treasury minister and led to the censure motion.
'Fair way'
Two weeks ago the States deferred the vote after former Interim Treasurer Hugh McGarel-Groves described the process used to write the report as "flawed".
Mr Swinson said he was confident about the evidence in the report.
One of the politicians who brought the motion, Senator Sarah Ferguson, said it was diverting attention away from the issues raised in the report.
"The whole thing has got personalised," she said.
But Senator Ozouf said: "Many colleagues had expressed the view that the only fair way of proceeding was to debate the proposition.
"This issue has been going on for 10 months and [there have been] two inquiries that have had no basis for a vote of no confidence or censure."