Fewer Jersey Royal potatoes are exported
29 June 2012

From the section

Jersey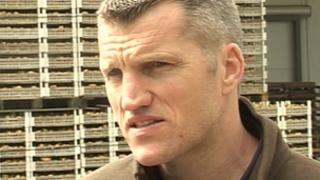 Farmers expect to export fewer Jersey Royal potatoes in 2012 compared with previous years.
Paul Carre, an independent grower, says the last good season was 2008 but the weather has affected crops since.
On average 35,000 tonnes are exported, but this year despite more being planted, growers expect there will be just 30,000.
One of the biggest growers, the Jersey Royal Company, says it was the worst season in 20 years.
Trevor Le Maistre, from the Jersey Royal Company, says poor weather had reduced its harvest by 20%.
He said: "We have seen almost three or four seasons in one when we had frost, drought, the rain and the cold. It has been very challenging when you look at it from a growing aspect."
Mr Carre, from Fosse au Bois Farm in St Ouen, said: "The winds break the potatoes and they stop growing, you get a lot of smaller potatoes, you don't get enough big ones to get the tonnage up.
"This year we had frost in January, which annihilated our potatoes, then we had a drought in April, then northerly winds which smashed the potatoes to bits and then we've had wet weather ever since."