Expert says Roman and Celtic coins should go on tour
27 June 2012

From the section

Jersey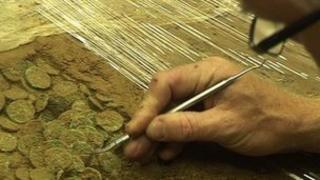 A marketing expert says the record find of Roman and Celtic coins in Jersey is a unique opportunity for the island.
Christopher Journeax, former head of marketing for Jersey Heritage, says the find worth up to £10m could be used as a travelling exhibition.
The coins, dating from about 50BC are thought to weigh about three quarters of a tonne.
Mr Journeax believes many people and not just archaeologists and specialists would want to see the treasure.
He said the Celtic coins could spark more interest in the island and its history.
'Very significant'
"Take for example the massive Claude Cahun collection, that has gone out to art galleries, very big and very important art galleries in Europe and beyond.
"Every time it goes out it doesn't just take the Jersey name but also what Jersey considers to be good art.
"If there is a sense you get across by staging these exhibitions in Europe's best art galleries, and the same in the museums, this is just a taste of what we've got," said Mr Journeax.
John Clarke, the president of the Societe Jersiaise, said the coins should be displayed at the museum and managed for the people by a local study group.
The Roman and Celtic coins, which date from the 1st Century BC, were found by two metal detector enthusiasts.
It was found by Reg Mead and Richard Miles in a field in the east of Jersey.
They had been searching for more than 30 years after hearing rumours a farmer had discovered silver coins while working on his land.
Dr Philip de Jersey, a former Celtic coin expert at Oxford University, said the haul was "extremely exciting and very significant".