Jersey considers O-level exams to replace GCSEs
21 June 2012

From the section

Jersey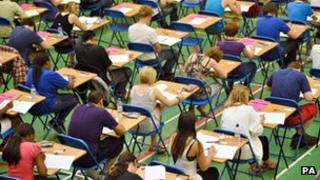 Jersey will be looking seriously at proposals to replace GCSE exams with an O-level style test, according to the education department.
Sarah Johnson, a professional advisor to Jersey teachers, said the department would be looking closely at the plans.
UK Education Secretary Michael Gove is considering scrapping GCSEs, and replacing them with tougher qualifications similar to O-levels.
He also wants to introduce single exam boards for each subject.
Mr Gove said 40% of pupils were currently being left behind.
'Flabbergasted'
Ms Johnson said: "We would certainly take the opportunity to look very seriously at the proposals.
"A lot of our students want to follow their education into further education, university and colleges in the UK and we would not want to disadvantage them in that market."
Les Quennevais School head teacher John Thorpe said he was flabbergasted by the suggestion.
He said: "It seems to be an idea dreamed up at three o'clock in the morning, publicised before they were ready, not thought through either in planning or how it will work.
"I suspect it will never happen."