Jersey stroke survivor Anthony Lewis wins national award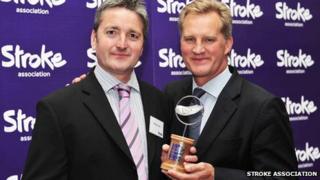 A Jersey stroke survivor has been given a national award.
Anthony Lewis was the assistant editor of local newspaper the Jersey Evening Post before his stroke four years ago.
He was one of 250 people nominated for the Stroke Association's awards and was recognised for his courage in coping with his stroke and his bravery in supporting others affected by stroke.
He was nominated by a senior occupational therapist from the Jersey Community Stroke Team.
Amanda Johnson said: "Anthony has become a role model and inspiration to almost everyone on the island.
"He supports stroke survivors who are regaining their movement by accompanying them on walks, despite it being a challenge for him.
"He pushes himself to the limit and defies the stereotypes around surviving a stroke."
'Overwhelming courage'
Mr Lewis raised £25,000 for charity in 2010 when he overcame his partial paralysis to walk the Jersey Marathon for the Stroke Association.
He is now preparing a charity cycle from London to Paris in September.
Mr Lewis was presented with his award by Australian rugby player and fellow stroke survivor Michael Lynagh.
He said: "Since his stroke, Anthony has shown overwhelming courage in rebuilding his life.
"Having recently had a stroke myself, and knowing the emotional, physical, and mental strength and drive it takes to re-build your own life.
"It is astounding to hear of the lengths he goes to support others who have been affected by stroke on an individual basis and through his extraordinary fundraising efforts."
Mr Lewis is one of 14 torchbearers who will carry the Olympic torch when it visits Jersey on 15 July.