Extra Jersey health money to ease hospital pressure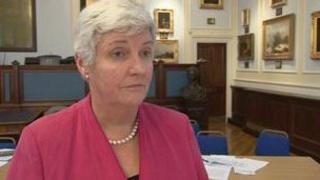 Extra money made available for the health service will ease pressure at the hospital, says the minister.
Deputy Anne Pryke said the extra £1.7m would be used to provide specialist care for people in their own homes.
The move should make it easier for people to be discharged from hospital, who previously would not have been able to cope at home.
Treasury Minister Senator Philip Ozouf said some of the services provided by the health department could be better.
He said the money was available because public spending was under greater control.
Deputy Pryke told BBC News: "It is going to be spent on a variety of different things but one of the main things is intermediate care.
"There are delayed discharges in hospital because, for a variety of reasons, they haven't got carers at home but they still need that extra support at home.
"This will enable people, whether care assistants or trained staff to give that extra support so people can go home as soon as they can."
Senator Ozouf said the money had come from the same contingency fund that was investing £27m to improve social housing.
He said: "It is wise to have a contingency, there will always be something within the year that is unexpected or becomes urgent, pandemic flu, an ash cloud.
"Exceptionally we have made available this money for health, we are concerned by some of the services delivered by health and think we can do better."