Jersey lights most southerly beacon in the British Isles
4 June 2012

From the section

Jersey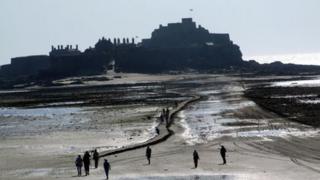 The most southerly beacon in the British Isles will be lit in Jersey as part of the Queen's Diamond Jubilee.
The fire is one of more than 4,000 others around the world to be lit in sequence later.
Bruno Peek, Pageant Master of the Queen's Diamond Jubilee Beacons, said the UK beacons would be lit between 22:00 BST and 22:30 BST.
The southernmost beacon in the British Isles will be lit at Jersey's Elizabeth Castle.
Beacons were originally used for communication or as warnings, but have come to be used for celebrations.
They were lit for Queen Victoria's Diamond Jubilee in 1897 and Queen Elizabeth II's Silver and Golden Jubilees in 1977 and 2002.
Beacons are being built not just on the five main Channel Islands of Jersey, Guernsey, Alderney, Sark and Herm, but also on Brecqhou, Jethou and Lihou.
21-gun salute
In Jersey there is a service of dedication at the Town Church.
The Dean of Jersey, the Very Reverend Bob Key, said it would remind islanders the Queen is the Defender of the Faith.
Organisers said thousands of people were expected to join the celebrations in St Helier where there will be a Diamond Jubilee food fair and entertainment at Les Jardins de la Mer.
A Diamond Jubilee concert at Fort Regent will feature a new overture commissioned for the Queen's Diamond Jubilee.
Musicians from across the island will perform L'Ouvèrtuthe dé Dgiamant , written by former army music chief Lt Col Geoff Kingston.
The concert will also be shown on a big screen at Les Jardins de la Mer.
Then the jubilee beacon will be lit after a 21-gun salute by the Jersey Militia, and will be followed by a fireworks display at Elizabeth Castle.
See all the latest Diamond Jubilee news and features at bbc.co.uk/diamondjubilee