Jersey Archive releases occupation letters
7 May 2012

From the section

Jersey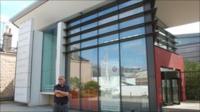 Letters written to Jersey authorities by members of the German occupying forces are being released.
Among them is one addressed to the then Bailiff Alexander Coutanche asking for help.
The files were stored in the Office of the Lieutenant Governor and staff from the Archive have spent the last few months sifting through them.
Trudy Foster from the archive said one was from a German commander in chief stationed in the island.
General Von Schmettow wrote from Austria asking about the fate of his men after he had been replaced just months before Liberation and talks of his concerns about his family who were in the Russian zone.
Hardships in Europe
The general also wrote to an islander who worked at Samares Manor where he stayed.
The letters written after the war by former members of the occupying forces give a sense of the hardships facing people in Europe.
Another letter, this time from a senior government official, asked the wartime Bailiff to write stating he had done all he could to help people in the island.
He says the testimonial would help him and his family.
Jersey was liberated from Nazi occupation on 9 May 1945 and celebrates Liberation Day on 9 May every year.