Smoking ban on Jersey health department premises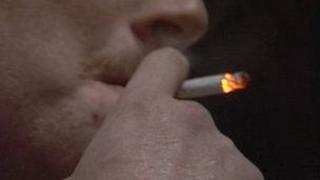 Hospital patients in Jersey will have to discharge themselves to have a cigarette when smoking is banned there.
Jersey's health department will ban smoking in all of its buildings and grounds from 14 March, to coincide with National No Smoking Day.
Patients who smoke will be offered nicotine replacements.
But if they still want a cigarette they would have to sign a temporary discharge form and leave the premises unaccompanied.
Jersey's Health Minister, Deputy Anne Pryke, said: "The decision to go smoke free throughout HSSD [Health and Social Services Department] is one which we hope will benefit the whole community.
"The goal of this policy is to create a healthy environment for all employees, volunteers, clients, residents, patients, and visitors.
"The smoke free policy will allow Health and Social Services to lead the way and be an exemplar organisation in providing a smoke free environment."