St Helier office development approved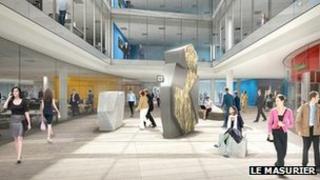 A project to build six floors of offices and create a covered road in the centre of St Helier has been approved.
J1, which would link Broad Street and Commercial Street, is thought to be the largest single development in Jersey.
Planning Minister Deputy Rob Duhamel said planners had to weigh up conservation concerns with pressure to support the local economy.
Developer Le Masurier said it would provide 260,000 sq ft of office space.
Training scheme
Le Masurier said it would provide an important boost to the construction industry and a commitment has been given to set up a training scheme for local people.
Deputy Duhamel said: "The need to supply opportunities for local job-seekers is one of the highest priorities for the Council of Ministers and the company's commitment to helping us achieve that end is a very welcome one."
It will mean the loss of some historic buildings and competition with the planned States scheme to build a new financial services centre on the Esplanade Car Park.
The application was originally submitted as an eight-storey development but the planning minister negotiated a smaller plan with developers.
The front of two historic buildings will be retained during the build, as will the historic wall, which runs along the western site boundary.