Delay for Jersey over torch route announcement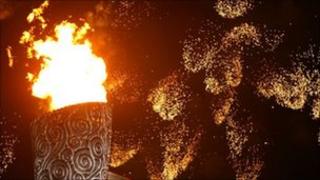 The route of the London 2012 Olympic torch has been announced, but Jersey is still waiting to hear from organisers about its course on the island.
The torch will go to Jersey on 15 July as part of the 1,018 places in the UK it will pass through.
David de Carteret, from Jersey Tourism, said they were still waiting to hear from organisers as to what the island's route would be.
He said proposals were put forward, but they had not been confirmed.
The route across other parts of the British Isles was announced on Monday.
'Traffic issues'
Jersey's Tourism department is organising the event and said the flame would travel along Jersey's south coast finishing in Weighbridge Place.
He said: "We have put some proposals forward to Locog but they haven't finally confirmed the ideas we have put forward.
"There are issues around traffic and making sure the police are involved and so on. First of all the relay runners are safe and the police are happy with the route that has been selected.
"We have had two meetings so far, a final proposal has gone in but I haven't had confirmation they are going to accept it yet."
The flame will arrive at the Olympic Stadium in London on 27 July 2012 and will be carried across the UK by 8,000 torchbearers.
The flame will visit six islands en route: the Isle of Man, Guernsey, Jersey, Shetland, Orkney and the Isle of Lewis.
In each island a community-led celebration will welcome the Olympic flame and torchbearers will run in relay.