Jersey's Millennium town park opens after 13-year wait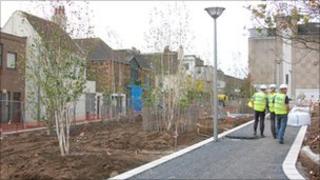 Jersey's Millennium town park will open to the public on Saturday - after 13 years of planning.
The idea was discussed in 1998 and the States agreed to create it in 2000 after a petition from 16,400 people.
The plans stalled a number of times because of a lack of funds, but an "accidental" vote involving a ring binder in 2009 meant £10m was allocated to pay for the new park.
Work started on the former car park earlier this year.
The St Helier park has water features, sculptures, a playground and an area to play ball games.
The site will open with what has been described as a "weekend of fun".
Constable Mike Jackson, Minister for Transport and Technical Services, said: "I hope people will come out and see how the site of an old gas works, used as a car park for two decades, has been transformed into a beautiful park with unique character and facilities that will benefit the local community."
Ring binder vote
In September 2009, the States spent more than half a day debating the proposal, and plans to spend £10m on the park were passed by just one vote, with 23 in favour and 22 against.
Senator Alan Maclean said he had meant to vote against the plans but papers on his desk meant he had pushed the wrong button with a ring binder.
There are events on Saturday and Sunday at the town park to mark the opening.
But local resident, Julie Matthews, said she was unhappy with the design of the park.
She described it as a "concrete jungle" and said she will be protesting at the opening at the weekend.