Jersey elections turnout up as polls were on one day: Professor
20 October 2011

From the section

Jersey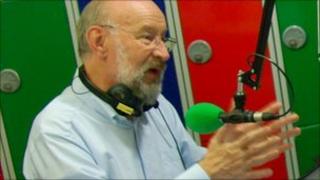 Turnout was high in Jersey because the elections for senator, constable and deputy were on one day, says a political analyst.
Prof Adrian Lee said turnout in Jersey had historically been very low, particularly in the deputies elections.
He said that was partly a product of having the elections separately.
"Now with elections all on one day, turnout in the deputies elections has come out up to that normally experienced in the senators elections."
Average turnout for the constable elections was 48.6%, for deputies it was 47.9% and 48.4% for the senators elections.
Prof Lee said having a higher number of people on the electoral register could also have caused the increase in turnout.
'Reaped the whirlwind'
He said a number of things stood out from the deputies election.
The professor said: "Notable casualties like Deputy Bob Hill in St Martin being defeated on the back of a very high poll indeed - 63.1% - in fact the highest poll in the island."
He said the former Jersey Democratic Alliance deputies who were running now as independents did much better than many expected them to. Only Debbie de Sousa lost her seat.
Prof Lee said: "Well established deputies benefited from an incumbency affect, including Carolyn Labey in Grouville and Roy Le Herrisier in St Saviour number three.
"Elsewhere some new deputies coming through different routes rather than the old honorary service to the parish formal route that deputies used to come through... Kristina Moore in St Peter is a prime example of that."
Prof Lee said the two changes in the constable elections had turned very much on local issues, certainly in St Saviour where Sadie Rennard said she had decided to stand because of a planning issue.
He said: "In St Brelade Mike Jackson I think reaped the whirlwind as it were from being both constable and minister for transport and technical services which traditionally is a sort of poisoned chalice.
"There was a suggestion that it's almost very difficult to combine the roles."
'Reversed the order'
He said the most outstanding point of the senatorial election was the performance of former Bailiff Sir Philip Bailhache who topped the poll.
Prof Lee said: "If you analyse the results in detail just over 80% of the people who voted cast one of their ballots for Sir Philip."
He said there was uniformity in the senatorial polling across the island except in St Helier which reversed the order of the first two candidates.
He said: "The interesting thing about it is there were only four senators up this time.
"If there had been six, both Senator Freddie Cohen and Advocate Rose Colley would have retained or gained seats."