Jersey feel 'left out' of Guernsey fishing agreement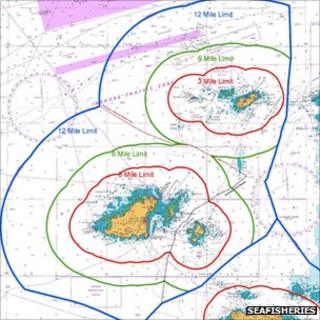 Jersey fishermen say they feel left out of a new agreement over fishing rights in Guernsey's territorial waters.
Sark's government was the first in the Bailiwick of Guernsey to sign a Fisheries Management Agreement with the UK, with Alderney and Guernsey expected to follow suit.
The agreement licences UK fishing boats to operate within the 3 - 12 nautical mile zone around the Bailiwick.
But there are concerns Jersey fishing vessels will be excluded.
Don Thompson, President of the Jersey Fisherman's Association, said he was supporting Guernsey's desire to protect its territorial waters, but said there were concerns for Jersey fishermen.
He said: "We are extremely disappointed that we've not been included or even consulted on what levels of access that Jersey fleet would require to those waters."
'Seeking assurances'
Guernsey's government said a meeting with Jersey officials was scheduled for later this month.
In a statement, it said it would settle the issue over commercial fishing in Guernsey waters.
Senator Alan Maclean from Jersey's Economic Development Department said there were concerns about the accuracy and intent of the agreement.
He said: "The concerns raised in Jersey centre on the apparent exclusion of Jersey-registered vessels from the categories of vessels which will be granted licences.
"We will be seeking assurances from our Guernsey colleagues that neither of the islands' fisheries are disadvantaged as a result."