New October record as Jersey temperature reaches 26.9C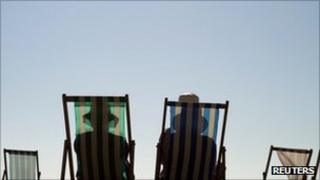 Saturday was officially the hottest October day on record in Jersey, according to the island's met office.
The States of Jersey Meteorological Department's statistics show the previous record of 24.4C was set back in October 1959.
Forecasters said the temperature in Jersey on Saturday was 2.5 degrees warmer - at 26.9C.
The warmest place in Britain was Gravesend in Kent, where the temperature rose to 29.9C.
Wales also has a new national record of 28.2C, which was recorded at Hawarden, Flintshire.