RNLI seasonal cover ends at Jersey's Greve de Lecq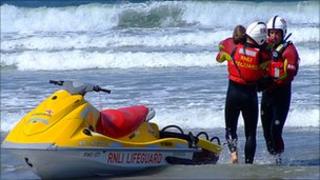 RNLI lifeguards are advising people who want to swim in the sea around Jersey against going to Greve de Lecq where seasonal safety cover has finished.
Rob Stuteley, RNLI lifeguard supervisor, advised swimmers to go to St Brelade, Plemont or St Ouens and stay between the red and yellow flags.
The lifeguards will be at those beaches until Sunday 2 October.
Lifeguards have dealt with minor incidents including cuts and missing children.
More serious incidents included treating a woman for concussion after she fell on the slipway and helping a woman who damaged a ligament while "coasteering".
Coasteering involves swimming, climbing, jumping and diving around rocky coastlines.
Lifeguards also helped the fire service rescue a young child who was stuck up the cliff, and was there when a boat capsized.