Stamps celebrate Jersey's finance industry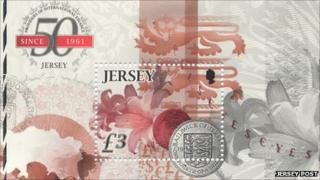 Jersey Post has commissioned a new set of stamps celebrating the 50th anniversary of the island's finance industry.
The stamps have been printed on special paper and embossed so they look like banknotes.
The liard, a copper monetary unit used in the eighteenth century, features on the stamps along with the Jersey crest.
Philatelic researcher Melanie Gouzinis said a lot of thought had been put into the design.
She said: "During the initial stages of planning this commemorative stamp issue, we liaised with Jersey Finance who provided us with a timeline of historical events."
David Vieira, head of marketing at Jersey Finance, said: "City merchant bank M Samuel, a forerunner of the Hill Samuel Group, set up a branch in Jersey in 1961 and other banks followed soon after.
"They began to establish offshore operations in earnest during this time, to meet the growing demand of British customers living or working abroad."
The 1960 "fourth of a shilling" coin featured on the stamp sheet was from the last Jersey coins minted before 1961.
The Jersey Lily represents growth whilst the crest of the States of Jersey symbolises authority.