Campaign for motorcyclists safety in Jersey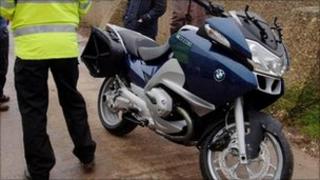 A road safety campaign to protect motorcyclists has begun in Jersey.
It comes as new figures revealed 26 of the 60 serious injuries suffered on the island's roads in 2010 were to motorcyclists.
The campaign aims to raise drivers' awareness of motorcyclists, with large adverts appearing on buses in Jersey.
The Road Safety Panel has asked motorcyclists to switch on their dipped headlights during the day and night to help other drivers to see them.
Nick Meldrum, a panel member, said: "As someone who rides a motorcycle, the biggest issue for me is being seen.
"Having the correct lane position is really important, but also wearing high visibility clothing and riding with dipped headlights on... is vital. It really helps other roads users to see you."
Tim Parker-Garner, the chairman of the panel, said: "One of the key issues at the root of the problem, is of vehicles pulling out of side roads and driveways and driving into the path of riders who they have not seen."
The Road Safety Panel and States of Jersey Police will be handing out information at the Jersey Motorcycle Rally on 18 September at the Weighbridge, St Helier.