Jersey States save thousands in energy saving drive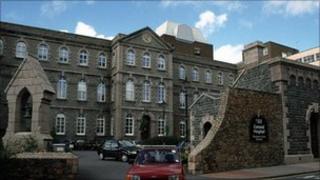 Replacing the lifts at Jersey's General Hospital has reduced energy use by 40% and shaved £20,000 off its annual budget.
It was one of many savings planned across all States departments as part of energy efficiency measures.
The States wants to make savings of £1.25m by 2013 and achieve Eco-Active States accreditation for all departments by 2014.
The measures include using less electricity, water and heating.
Laura Rowley, Treasurer of the States, said: "All States departments have been taking a closer look at their energy and water consumption... and have been able to identify and implement new ways to save energy and water, while continuing to deliver efficient and effective customer service."
Education, Sport and Culture has saved £10,000 and reduced electricity use by 30% by replacing air-conditioning systems in several school buildings.
In addition to saving money by replacing hospital lifts, Health and Social Services has saved £13,000 a year by replacing lighting with new, low-energy fittings and lamps.
The Traffic and Street Works Team at Transport and Technical Services has saved almost £10,000 a year by fitting new public lighting systems.
Jersey Airport has used 14% less energy this year than it did during the same period in 2010 by holding workshops for staff and a review of energy consumption. A new baggage system that shuts down very quickly when not in use has also been installed.
Senator Philip Ozouf, Treasury and Resources Minister, said: "I am pleased to say that the States are on track to meet their targets and should achieve a 10% reduction in the consumption of energy and water, as well as cashable efficiencies of £1.25m, by 2013."