Senator Jim Perchard to leave the States of Jersey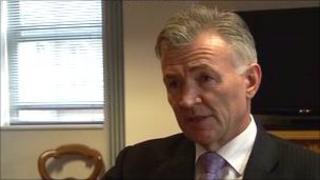 Senator Jim Perchard said he would be stepping down from politics in October at the end of his six-year term in the States of Jersey.
During his term of office he served as health minister as well as on scrutiny panels.
In choosing not to continue with his political career, he said he hoped the new house would continue efforts to reduce public spending.
Senator Perchard said that the current level of spending was "unsustainable".
He said he also hoped the States will hold a referendum on any plans to reduce the number of politicians.
'Chaotic way'
Senator Perchard was also the politician behind a failed referendum on changing Jersey to central European time in 2008.
It was the first referendum in 50 years and saw 6,564people vote in favour of the change to 17,230 voting against.
The senator said the government needed to reform the "chaotic way it conducts business" to become more effective.
He said leaving the States would give him more time to concentrate on his personal and business interests.