Teenager 'shocked' by fatal polar bear attack in Norway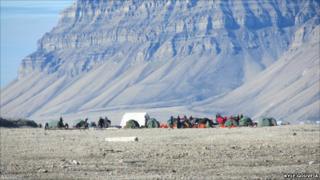 Teenager Kyle Gouveia of Jersey was on an expedition that saw a British boy die and four others injured in a polar bear attack in a remote part of Norway.
About 80 people had been on the trip with the British Schools Exploring Society (BSES) near the remote Von Postbreen glacier when the attack took place on Friday.
The BSES, which is based in Kensington, west London, has not released the name of the dead 17-year-old.
It said the injured men were trip leaders Michael Reid and Andrew Ruck and trip members Patrick Flinders also from Jersey, and Scott Smith.
Seventeen-year-old Kyle had to return early from the expedition after reacting badly to the cold.
"I got sunburnt very badly because the sun was four times stronger up there and I ended up getting frost nip, which is on the verge of frost bite.
"I nearly lost my fingers and the top of my nose," he said.
On hearing the news of the attack, Kyle said he had felt "traumatised and scared".
"I knew all the people there, I had started mingling with them and started making friends.
"I'm worried about the injured people and how the polar bear managed to get them," he said.
While not friends with Patrick, Kyle had spent some time with his group during the training.
"I had seen him up there, he wasn't in my specific group because he was going for three weeks and I was going for five but his group were all nice and I got friendly with them."
He said the group had been warned about the danger of polar bears and given rifle training.
"We also learnt about protection from polar bears, letting off bear flares around your camp, firing shotgun rounds, making loud noises so the bears are scared off," he added.
Kyle first heard about the polar expedition when the BSES went to his school.
"I was interested in it and thought it would be an adventure, I have realised I may be susceptible to the cold in the Arctic but am contemplating another BSES course next year, maybe to the Amazon," he said.
BSES Expeditions is a youth development charity that organises scientific expeditions to remote areas to develop teamwork and a spirit of adventure.
It was founded in 1932 by a member of Captain Scott's final Antarctic expedition of 1910-13.
The BSES group was on a trip which began on 23 July and was scheduled to run until 28 August.