Jersey Police focussing on cyclist and biker safety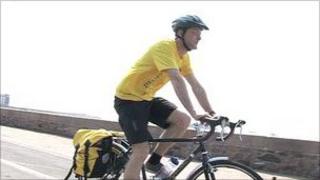 Jersey Police wants to improve road safety for cyclists and motorcyclists.
Officers have launched a campaign to highlight the importance of wearing the appropriate clothes and safety equipment and the need to be aware of road conditions.
Officers will be out on the island's roads stopping cyclists and motorcyclists to offer advice.
As part of the campaign a number of Jersey bike and motorbike suppliers are offering discounts during August.
Insp Diane Wheeler said: "The States of Jersey Police maintains an ongoing commitment to road safety throughout the year, and at this time, when cycling and motorcycling is especially popular, we believe it is important to ensure two-wheel users are getting the best guidance and advice on using our roads safely.
"So far this year, 56 motorcyclists and 19 pedal cyclists have been injured as a result of incidents on Jersey's roads and lanes, though we know that cycling casualties are not always reported to police, even when the cyclist is injured badly enough to be taken to hospital.
"It is our aim to reduce the number of injuries by delivering a simple message of awareness and reminding road users of safety equipment available for their protection."