Islanders in Jersey reassured about seaweed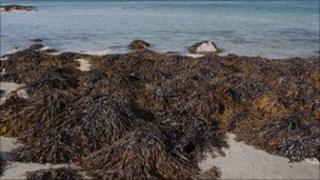 People are being reassured there is little danger of a build up of toxic gases from rotting seaweed on Jersey beaches.
In Brittany, France, fumes from rotting seaweed was thought to have killed dozens of wild boar this summer.
In past years French beaches have closed by the seaweed.
However, John Rogers, from Transport and Technical Services, said the seaweed in Jersey was unlikely to cause problems.
He said: "We monitor it very closely and if it starts building up in a certain area we may use bigger machinery to move it, the trick for us is we manage it as quickly as possible so that it does not build up to the levels that it has on the French coast."
Jez Payne, from Beachwatch Jersey, said although the same seaweed is found in St Aubin's Bay it does not pose a threat to your health.
He said: "The problem is we are giving it a nutrient rich area in which to work in.
"Because it is such a shallow sloping beach as the waves slop in they tend to bring it in and because they are very low energy as the tide recedes it lays a blanket on the surface and covers vast areas."