Jersey police introduce bicycle patrols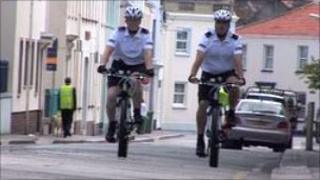 People in Jersey will see cycling policemen on the streets as 10 officers are trained for cycle patrols.
The cycling officers will cover five uniform shifts 24 hours a day.
Jersey police chief officer, Mike Bowron, said bikes had proved successful in the UK.
The bikes have the police logo on them and officers wear specially adapted uniforms so they can respond to any incident straight away.
Pc Scott Docherty will be taking to the streets on a bike and said they could do deal with most things without going back to the station.
He said: "We've got the panniers on the back of the bike as well that carry our paperwork so we should be fully functional and won't have to return to the station.
"We can deal with things as we come across them."
Mr Bowron said it was a huge success in the City of London where he was Commissioner before coming to Jersey, and hoped it would be the same in Jersey.
He said he hoped the bikes would make officers more approachable to youngsters and give officers another reason to speak to the public.