Isle of Man breast cancer 'sanctuary' needed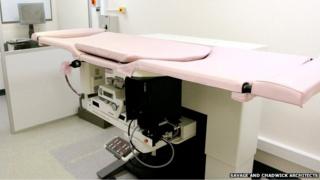 Fundraisers in the Isle of Man have stressed the need for a hospital "sanctuary" to help patients come to terms with a breast cancer diagnoses.
The Manx Breast Cancer Support Group aims to raise £1.5m to build a breast clinic at Noble's Hospital in Braddan.
The facility would include an ultrasound room and dedicated consultancy spaces for breast cancer patients.
Former patient, Claire Brew has backed the changes after she was diagnosed in the ear, nose and throat department.
She said: "I was given this terrible news and then I had to walk through a room full of people waiting for hearing appointments - it was really upsetting.
"People need somewhere to go, a sanctuary where they can talk to people who can offer support- that would have really helped me".
'Sharing our clinic'
The idea for a dedicated facility was first put forward by the Isle of Man's breast surgeon, Millie Bello who said the building would also make life easier for medical staff.
"At the moment we are sharing our clinic space which means it can take more time to get anything done - we always have to check room availability," she said.
"The actual service patients receive on the island is as good as you would get in any teaching hospital in the UK, but a new clinic will mean we have our own home where people can drop in and talk things over, either with an appointment or without one."
The proposed extension, which is still in the planning stages, would involve moving the current audiology department to the first floor of the hospital.
The Isle of Man government has committed to covering the cost of relocation but said it was unable to fund the unit.
The Manx Cancer Support group, predominantly made up of former patients, has so far raised about £300,000, a fifth of final target.
'Privacy and education'
The group has been involved in various fundraising events and last month a £30,000 donation from the Henry Bloom Noble Healthcare Trust brought the dream closer to reality.
Former patient, Jane Elizabeth Rose, 56, said she was looking forward to a time when she could offer help to those who needed it.
"When you are told you have breast cancer it's like being given a death sentence. At times like this, people need space, privacy and education.
"They also need to talk to others who have been thorough the same thing who can say, 'I've been there and done it'.
"I want to help people see it's not as bad as they may think."
All women over the age of 50 are currently invited for regular breast cancer screening on the island.
During 2013, about 100 people on the Isle of Man were diagnosed and another 3,000 visited outpatients clinics both on the island and in the UK.
Island statistics, roughly in line with those in the UK , show that about one man is diagnosed with breast cancer for every 100 women.