TT 2014: Girl, 7, grows flowers to help injured marshal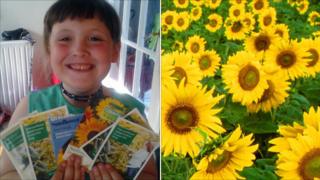 A seven-year-old girl from the Isle of Man has raised hundreds of pounds for a TT marshal injured at this year's races by growing sunflowers.
Cici Reed decided she wanted to raise funds for Paul Hunt as he "looked sad" in a picture after he crashed while inspecting the course during TT week.
Cici, from Peel, said: "It's nice to do something for other people."
Mr Hunt, known locally as Big H, is currently being treated in a UK hospital.
'She is amazing'
Cici said: "I just want to make his life a bit better because he was miserable in hospital. Maybe he could buy himself some chocolate."
Entrepreneurial Cici initially started collecting for a greyhound charity, but then her honesty tin was stolen from outside her house.
Her mother Susan posted a message about the theft on Facebook and they were deluged with people wanting her sunflowers and Cici raised £200.
Mrs Reed said: "It wasn't much money at all but it was upsetting that it was taken. I was so angry that I posted it on my Facebook and it has snowballed from there."
"Cici decided to keep going - it is all her idea she is amazing."
Cici asked her mother if she could raise funds for the injured TT marshal.
Mrs Reed said: "TT fans from all over the UK have been in touch, it has been crazy."
Cici added: "We have grown so many sunflowers now I have lost count - the post box has been like a slot machine."
The youngster has now been asked to be the guest of honour at a fundraiser for Mr Hunt later this month.