TT 2014 : Thousands watch Ramsey Sprint and Red Arrows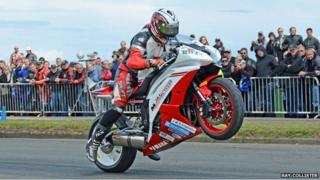 Thousands of bikers and locals attended the Ramsey sprint in the Isle of Man which will also see a performance from the Red Arrows.
The sprint, open to anyone who has a motorbike, sees bikers from all over the world compete over a strip of promenade almost a mile long.
The red arrows performed at 15:00 BST as part of their 50th display season.
The Ramsey swing bridge, currently undergoing repairs, was open only to pedestrians.