Isle of Man Mountain Road closures for TT preparation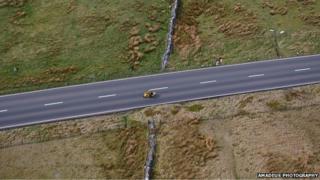 A section of the Isle of Man's Mountain Road will be closed for three days in May, as final preparations get under way for the annual TT racing festival.
The area between Creg-ny-Baa and Barrule Park will be closed between 09:30 and 16:30 BST from 6 to 8 May.
It is to allow for patching, line painting and temporary signage.
TT Course Inspection Officer, Shaun Counsell said: "With some of the riders reaching speeds of up to 200 mph, the road conditions need to be spot on."
Snow drifts
He added: "We have been doing the risk assessments for a few months now, the Auto Cycle Union (ACU) is very strict on standards and guidelines, especially on the Isle of Man because the TT has such a high international profile."
In May last year, course inspectors discovered about 300 faults in the road due to heavy snow fall in March - work which cost the government about £200,000.
The Hairpin, the Bungalow and the Gooseneck all needed extensive repair work in a relatively short space of time.
"This time last year we were fighting our way through snow drifts up on the mountain but this year it has been much more straightforward," added Mr Counsell.
"There has been a lot of work done already around the course and we are well on track."
The TT festival, due to begin on 26 May, attracts in the region of 40,000 bike fans to the Isle of Man every year.