Women's Institute centenary baton visits Isle of Man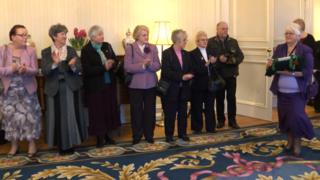 A Women's Institute (WI) centenary baton has arrived on the Isle of Man as part of the organisation's 100th anniversary celebrations for 2015.
The baton, which contains a memory stick for members to add their WI memories, is being carried around the British Isles and will be on the island until Tuesday.
It was presented to Isle of Man members at Government House.
The WI currently has 700 members on the Isle of Man.
It has 20,000 members across the British Isles.
Cheshire Federation chairwoman Frances Woollam, who brought it to the island, said it was a "privilege" to hand it on.
"It is important that all our members have the opportunity to celebrate," she added.
The Isle of Man's lieutenant governor Adam Wood said, from its inception, the WI had played a "significant roll in the Isle of Man".
The baton will travel on to Lancashire on Tuesday with two Manx members handing it over to the Lancashire Federation at the top of the Blackpool Tower.
It began its journey on 1 January on Anglesey, where the very first WI meeting in the British Isles was held in 1915.