'Lessons being learnt' over flooding - minister says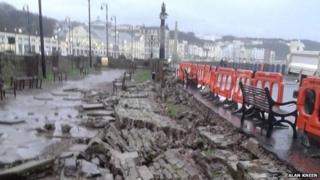 An Isle of Man minister has praised the work carried out on Monday to minimise harm to homes and businesses during exceptionally high tides.
Infrastructure Minister David Cretney said "lessons had been learnt from January's floods resulting in a more focussed approach".
More than 20,000 sandbags were handed out and one tonne bags of sand were introduced to protect coastal towns.
Mr Cretney said the "results were excellent."
He added: "We incorporated the one tonne sand bags at strategic locations, which have done a good job.
"Overall is has been an excellent result and we are learning on an ongoing basis from situations like this".
The worst damage was recorded in areas of Douglas and Ramsey with walls demolished by tidal surges.
A clean-up operation is ongoing to clear debris and mend damaged coastal defences.
Civil Maintenance Manager Alan Harding said: "In Ramsey we are bringing in 200 tonnes of rock armour to protect further damage."
The protective measure has already been installed in Gansey.
Repairs are also being carried out by the Department on a 30 metre stretch of wall flattened in Douglas on Monday.
The Manx Met Office said tides will be receding now but that there will be overtopping waves at high tide on Wednesday morning and afternoon.
Forecaster Kirsty Pendlebury said: "There is a significant chance that further debris will be thrown on to coastal roads, but nothing as bad as Monday's deluge."