Clean-up begins after latest Isle of Man storm surge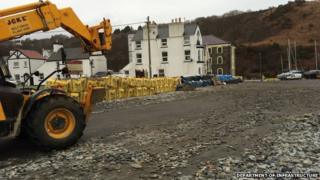 A clean-up operation has begun after Monday's high tide caused flooding and brought debris on to many Isle of Man roads.
Numerous roads were closed for safety reasons but most have now been reopened including Douglas promenade.
Motorists are being warned by police to drive to the conditions as standing water is causing a problem.
The tides reached their peak just before 14:00 GMT with the east coast of the island worst hit.
A section of Ramsey promenade, opposite the swimming pool, was due to remain closed until 21:00.
The Manx Met Office had issued a red weather warning.
Several roads in Douglas, Ramsey, Castletown, Laxey and Peel were closed.
A Department of Infrastructure spokesman said: "We are now working hard to clear the substantial amount of water, stones and other debris deposited on many coastal roads.
"The clean-up operation is in full flow but there will be some disruption around the peak commuter times."
Householders and shop-owners had been encouraged to take steps to protect their properties and vehicles from the storms and flooding.
The Department of Infrastructure handed out 20,000 sandbags on Saturday as huge waves broke over the island.
Additional flood defences were put in place on Monday in Laxey.