Isle of Man weather: Warning over 28ft tides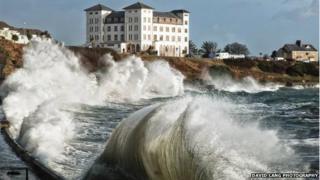 Tides as high as 8.5m (28ft) could break over promenades in the Isle of Man on Saturday, police have warned.
The highest waves are expected at midday during the high tide with "heavy and persistent rain" also expected to cause localised flooding.
The Manx Met Office issued a flood warning for Friday and Saturday.
The organisation said an amber warning was in place for Friday and a red warning was likely as the extreme weather continues into Saturday.
It is thought coastal areas will be badly affected, especially during Saturday's high tide when gales will create storm surges.
A spokesman said: " Current estimates point to tidal flooding at a higher level experienced on 6 January."
Police said: "It is predicted that waves as high as 8m will break over promenade walls, resulting in substantial amounts of water, stones and other debris being deposited on the roads.
"Saturday will witness a high tide at 12:20 GMT. The resulting storm surge will lead to large waves breaking over sea defences and promenades in Douglas, Castletown, Ramsey, Laxey and Gansey."
The department of infrastructure said it would place more than 20,000 sandbags at key locations around the island, in addition to the thousands still in place from previous tidal flooding.
Several roads in Castletown, Gansey, Douglas, Ramsey and Peel will remain closed until safe to open, a department spokesman said.
Police said: "Extreme caution is also advised for those watching the storms, as some people put themselves at risk during the extreme weather earlier this month.
"The advice from the emergency services is to stay well clear from areas where waves are breaking."