'No alternative to IoM toilet tax', WASA chairman says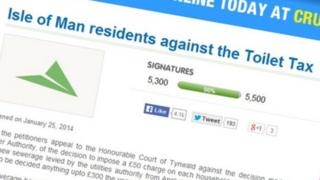 There is "no alternative" to the introduction of a so-called "toilet tax" in the Isle of Man, the Water and Sewerage Authority chairman has said.
WASA chairman John Houghton MHK said he "didn't get any delight in having to announce the unwelcome charge."
A £50 charge will be levied to households on mains sewerage from April, that may rise in 2016, as WASA said its revenue grant has fallen.
More than 5,000 islanders have signed an online petition opposing it.
James Corrin, a resident who opposes it, said: "I think it is absolutely unfair and quite ridiculous.
'Laughing stock'
"Margaret Thatcher introduced the poll tax in the UK and now the Isle of Man will go down in history for this toilet tax.
"It is making our little island an absolute laughing stock," he added.
The authority said the charge, which could rise to £100 a year in 2016, follows a reduction in its revenue grant.
Mr Houghton said: "The public has my profound sympathy because these are additional payments that people who have no additional income are having to find and it is not funny at all.
The 5,000 signature petition will be received by Douglas West MHK Chris Thomas on Monday.
Mr Thomas said: "Monday is the deadline for motions to be discussed in February's sitting of Tynwald so I will be there to receive it."
The charge would mean people in single occupation would pay the same charge as large businesses.
Mr Thomas will also ask two questions in Tuesday's House of Keys about the charge and the timing of its introduction.