Isle of Man TT star John McGuinness to stage chat show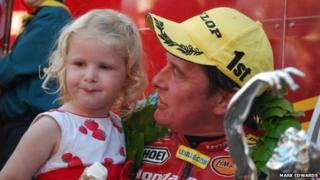 Twenty-time Isle of Man TT winner John McGuinness is to stage his own chat show, it has been announced.
Victory in this year's Senior race meant the Morecambe rider moved within six wins of Joey Dunlop, the most successful rider in TT history.
It is understood the 'Pies and Podiums' tour will involve a "small number of intimate shows" around the North West and on the Isle of Man.
He will be supported by former world Superbike champion Neil Hodgson.
Mr Hodgson said: "John is one of the most humble and down-to-earth riders you could ever meet.
"The admiration and following that he has gained throughout his motorcycling career is second to none.
"You only need to look at the outpouring of sentiment at this year's Senior TT when John scored his 20th win to understand what he has done for the sport and how much he means to so many fans."
Mr McGuinness, 41, said it is something he has "always wanted to do".
"There are so many stories and tales when I look back at my career. The many interesting people, team-mates like Joey [Dunlop] and friends that I have been privileged to know and work with since I made my debut at the Isle of Man in 1996.
"The fans have been so special to me and supported me throughout. This was an opportunity to put something back and talk about some of these special moments in my career".
Last week Honda announced that Mr McGuinness will be joined by Manx racer Conor Cummins in their new look TT line-up for 2014.
Since the idea was launched on Twitter fans have called for the show to tour the UK.